SPECIAL EDITION DVD NOW AVAILABLE!!!
LIVELIHOOD is a zombie comedy that tells the tales of an 80s rock star, a corporate lackey, and an evil mother-in-law who die, only to come back to life in a world that has long since forgotten about them. It is John Hughes meets George Romero, and has been called "laugh out loud funny; even brilliant", a "comic masterpiece", and "a cult classic".
NEWS - 8/25/2010:
The LIVELIHOOD prequel comic book is finally available! See The Dirty Marmaduke Flute Squad match wits with Billy Jump! See Kris Kashgrab when he was still skinny! See Steve Thomas insult himself! Script by Ryan Graham and Curtis Crispin, art by Kristopher Lohman. Only $1!!!!!!!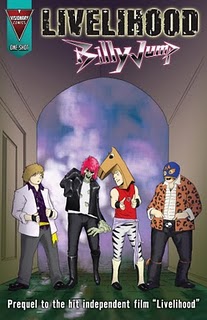 BUY IT HERE
LIVELIHOOD is now on Netflix, thanks to our great distributor! Please add it to your queue and give it a good rating and review!
Maxim Media has picked up LIVELIHOOD for Worldwide distribution, and will be releasing the film to all big retailers in the US on January 6th, 2009! They've redesigned the cover art, and it is incredibly awesome!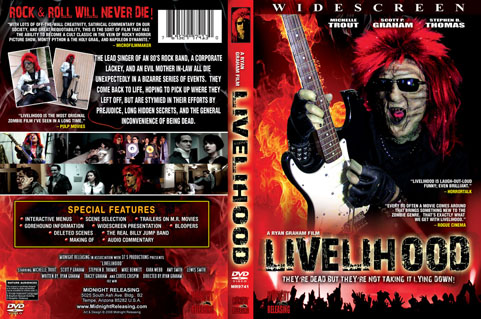 THE REVIEWS ARE IN FOR LIVELIHOOD SPECIAL EDITION, AND THEY ARE UNANIMOUSLY POSITIVE!!! CHECK THE PRESS PAGE FOR ALL NEW REVIEWS!